Welcome to the department of Electrical Engineering,
internal web pages!
The department of Electrical Engineering (ISY) is central to the engineering education at the Institute of Technology, one of four faculties at Linköping University, and this regards both basic and applied knowledge. The research is based on industrial needs, and ranges from basic research to direct application in collaboration projects.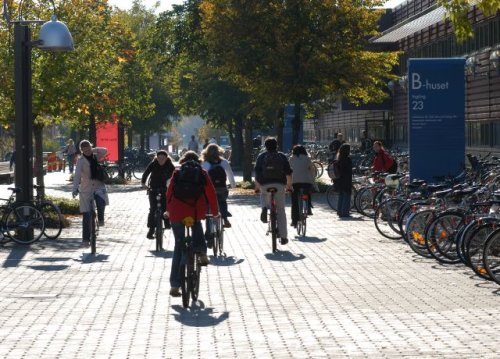 Undergraduate education
The department offers about 100 different courses in four main areas: Control Systems, Electronics, Image processing, and Telecommunications.
Research and postgraduate education
Research and postgraduate education is pursued in the divisions: Automatic Control, Communication Systems, Computer Engineering, Computer Vision, Information Coding, Integrated Circuits and Systems and Vehicular System.
News
Public Defence
Hannes Ovrén
PhD candidate in Computer Vision defends his thesis
"Continuous Models for Cameras and Inertial Sensors".
Opponent:
Professor Frank Dellaert, Georgia Institute of Technology, USA
Supervisor:
Per-Erik Forssén
Time:
20180907, 13:15
Place:
Ada Lovelace, Entrance 25, House B
Marcus Karlsson PhD candidate in Communication Systems defends his thesis "Blind Massive MIMO Base Stations: Downlink Transmission and Jamming"
Opponent: Professor Ralf Müller Friedrich-Alexander Universität Erlangen-Nüurnberg, Erlangen, Germany
Supervisor: Professor Erik G. Larsson
Time: 20180914, 13:15
Place: Ada Lovelace, Entrance 25, House B

Licentiate Thesis presentation
Gustav Lindmark
, PhD candidate in Automatic Control, presents his licentiate thesis
"Methods and algorithms for control input placement in complex networks"
.
External reviewer:
Dr. Paolo Frasca, Univ. Grenoble Alpes
Supervisor:
Professor Claudio Altafini
Time:
20180830, 10:15
Place:
Ada Lovelace, B-building, Campus Valla
Martin Lindfors, PhD candidate in Automatic Control, presents his licentiate thesis "Frequency Tracking for Speed Estimation".
External reviewer: Professor Tomas McKelvey, Chalmers University
Supervisor: Docent Rickard Karlsson
Time: 20180831, 13:15
Place: Ada Lovelace, B-building, Campus Valla


Giovanni Interdonato, PhD candidate in Communications Systems, presents his licentiate thesis "Signal Processing Aspects of Cell-Free Massive MIMO".
External reviewer: Professor Tommy Svensson, Chalmers University
Supervisor: Professor Erik G. Larsson
Time: 20180921, 13:15
Place: Systemet, B-building, Campus Valla

Last updated: 2018-05-30