Welcome to the department of Electrical Engineering!
The department of Electrical Engineering (ISY) is central to the engineering education at the Institute of Technology, one of four faculties at Linköping University, and this regards both basic and applied knowledge. The research is based on industrial needs, and ranges from basic research to direct application in collaboration projects.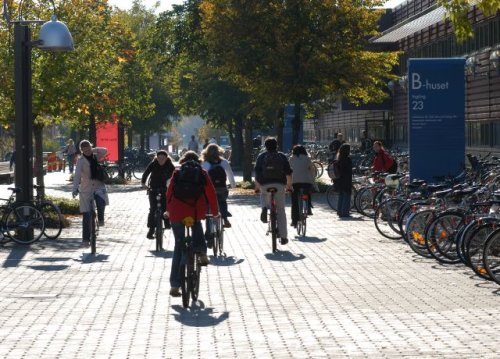 Undergraduate education
The department offers about 100 different courses in four main areas: Control Systems, Electronics, Image processing, and Telecommunications.
Research and postgraduate education
Research and postgraduate education is pursued in the divisions: Automatic Control, Communication Systems, Computer Engineering, Computer Vision, Electronic Devices, Electronics Systems, Information Coding, and Vehicular System.
News
Dissertation of thesis
Title:
Authentication in Quantum Key Distribution: Security Proof and Universal Hash Functions
Defender:
Aysajan Abidin
Division:
Information Coding
Supervisor:
Jan-Åke Larsson

Opponent:
Dr. Joseph Merill Renes, ETH Zurich, Switzerland.
Date and Time:
2013-05-17 kl. 13.15
Place:
Visionen, B-huset
http://liu.diva-portal.org/smash/record.jsf?searchId=1&pid=diva2:616704


Title:
Modeling for control of centrifugal compressors
Defender
: Oskar Leufvén
Division:
Electrical Engineering, Vehicular Systems , ISY
Supervisor:
Lars Eriksson
Opponent:
Professor José Galindo, CMT-Motores Térmicos, Universidad Politécnica de Valencia
Date and Time:
2013-05-24 kl. 10:15
Place
: Visionen, B-huset
Title:
Autonomous Localization in Unknown Environments
Defender Jonas Callmer
Divison: Automatic Control
Supervisors: Professor Fredrik Gustafsson, Associate Professor David Törnqvist
Opponent: Professor Paul Havinga, Twente University
Date and Time: 2013-06-05 kl. 10:15-12:00
Place: Visionen, B-huset
Dissertation of Licentiate
Title: Evaluation, Transformation, and Extraction of Driving Cycles and Vehicle Operations
Defender: Peter Nyberg
Division: Fordonssystem, ISY
Supervisors: Lars Nielsen, Erik Frisk
Opponent: Dr. Jonas Fredriksson, Chalmers tekniska högskola
Date and Time: 2013-05-30 kl. 10:15
Place: Visionen, B-huset
Last updated: 2012-06-19